We are CBV
CBV Collection Services Ltd. (CBV) was founded in October 1921, and is proudly celebrating a century of service to clients and their customers this year.
Originally known as Credit Bureau of Vancouver, CBV has grown from a strong regional ARM company to a leading national provider of BPO customer services. Longstanding relationships with blue chip customers in numerous sectors, consisting of prominent government bodies, leading chartered banks and telecommunications companies, CBV is at the forefront of bilingual contact centre services for a variety of clients.
As we begin our year-long celebration, we take this opportunity to look back with gratitude at the Company's accomplishments during the last 99 years and as always, we look forward with momentum for another 100 years. To quote Ken Downie, president of CBV from 1979 – 2011, "The collection industry remains a vital, burgeoning component of our economy. [Our employees'] energy and strengths make CBV a significant element of a national industry… this achievement is due entirely to the efforts and support of the great employees, past and present, which made and make us buoyant."
Our mission
CBV is devoted to delivering effective, efficient, respectful collection services with integrity and accountability applying our proven and innovative methods, advanced technology and compliance leadership to deliver exceptional results for our clients and their customers. Our mission is also not just to be the leader in collection services but also to lead by encouraging innovation to satisfy challenges and foster an environment of collaboration with internal and external customers.
Core values
Ethical and Honest Behaviour
Quality Service
High Productivity and Performance
Positive Work Environment
Key milestones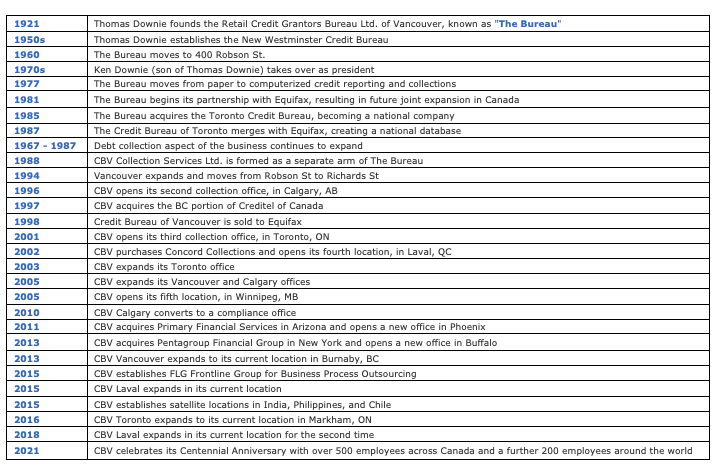 *CBV Collection Services Ltd (Canada) is a separate entity and is not an affiliate of CBV Collections, Inc.(USA)